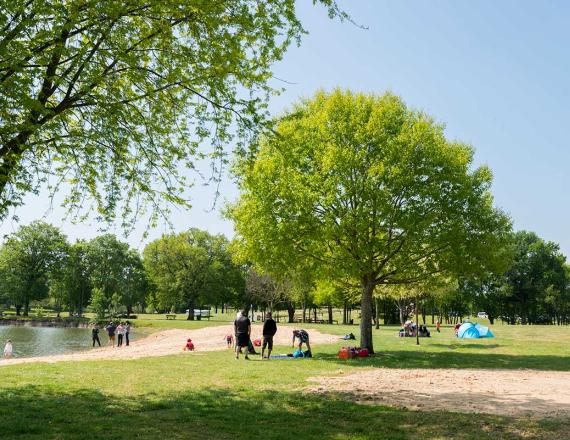 Have fun or relax at La Boulogne outdoor activities centre in Saint Philbert de Grand Lieu
La baignade de la plage du Parc de la Boulogne est ouverte tous les jours du vendredi 7 juillet au dimanche 27 août de 14h à 19h (sauf mardi 11 et 18 juillet et  jeudi 13 juillet). En dehors de ces périodes, la baignade n'est pas autorisée.
Des sauveteurs secouristes seront présents pour garantir la sécurité de la baignade.
Several events and activities are held in La Boulogne leisure centre in summer.
Further information  Ville de Saint Philbert de Grand Lieu.

Since last summer, an access pathway allows everybody to reach the beach and the water (pregnant women, families with strollers, people walking with crutches, old people, people with disabilities…)
A beach wheelchair (Tiralo) is available at the lifeguard station for people with disabilities : it has special equipment to navigate on the sand or in the water.
A bathing platform has been installed on the bathing area and is accessible when lifeguards are on duty.
A new fun equipment for children
In May, the town installed a fun equipment for youngsters (from 2 to 8 years old) in the meadow overlooking the beach. 
New actions to preserve the environment : this summer, small beach bins will be available. They were made by schoolchildren last spring. And a memo board will promote environmental awareness about water resources and the rational use of the beach shower.
Games, apps and reading 
Assistants from the library, the cybercentre and the games library will come on the spot to provide activities such as reading, games and apps.
Free sports activities are organised in July
Archery
Green beach soccer
Self Defense and ju-jitsu
Outdoor cinema ...
Free accessible Equipements 
Several equipements are freely accessible : beach sports field, fitness trail,  orienteering course (downloadable map on the town's website), geocaching, barbecues and picnic tables.
Swin golf
There is also a swin golf course in the park : an activity provided by the Grand Lieu Swin golf association.