La Limouzinière has a rich soil and is  renowned for its vineyards producing Muscadet, Muscadet Côtes de Grandlieu, Val de Loire and Gros Plant du Pays Nantais.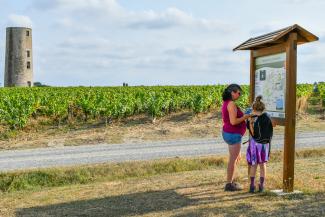 Oenophile hikers will be able to walk across the vines (east of town) and admire unique landscapes, changing with seasons.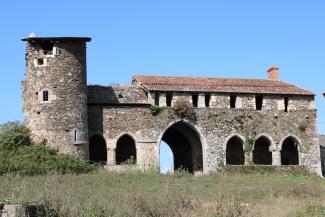 Autre patrimoine emblématique de la commune, le logis-porte du Château de la Touche est en 2022 sous le feu des projecteurs. Il s'agit du plus ancien patrimoine bâti de La Limouzinière. La commune a entamé la rénovation de cette bâtisse du Moyen-âge afin d'en faire un site culturel et touristique.
Un patrimoine remarquable et mystérieux
Du château de la Touche, il ne reste aujourd'hui que le logis-porche, attaqué par le temps et les intempéries. Souvent porte d'entrée vers un château, ce type de bâtiment servait à mettre en exergue le pouvoir et la richesse de la famille. Ici, le logis-porche a la particularité d'être doté d'une tour où se trouve au sommet un pigeonnier, ainsi que de trois salles et une galerie couverte d'arcades en granit avec une porte et des fenêtres voutées. Du château en lui-même, il ne reste plus rien d'apparent.
Les études menées par les archéologues et architectes du patrimoine ont révélé plusieurs phases successives d'aménagement, mais ne permettent pas de dater précisément l'année de construction du premier bâtiment. Toutefois, l'existence d'un seigneur de La Touche est attestée dès le début du XIVe siècle. Les recherches nous font aussi savoir qu'Henri de Navarre, futur Henri IV roi de France, dormi probablement dans le logis-porche le 3 octobre 1588. Transmis de famille en famille, le domaine subira au fil des siècles de nombreux assauts et démolitions, lui donnant son aspect actuel lourdement endommagé.
Suite à une donation, le bâtiment devient propriété de la commune en 1996, puis est inscrit à l'inventaire supplémentaire des Monuments Historiques.
Le projet de rénovation
À la suite d'un long travail de réflexion autour des questions de sauvegarde et de valorisation du patrimoine local, la commune a célébrée le lancement des travaux de rénovation le 14 mars 2022. Le projet, qui devrait s'achever en 2023, se déroulera en deux phases, en commençant d'abord par les parties dont l'état est jugé préoccupant.
Le coût total des travaux est estimé à 1M d'euros environ. Les subventions de l'Etat permettront d'en financer une grande partie. La municipalité a également travaillé en collaboration avec la Fondation du patrimoine pour organiser une collecte de don ; à retrouver sur www.fondation-patrimoine.org
To do in la Limouzinière :
Discover the old wine press at the north entrance of the town, visit the touristic cellar, have a picnic in the green open-air theater.