The mysterious Grandlieu lake is the oldest and largest natural lowland lake in France in winter. It has shaped the sceneries of neighbouring communes. 
A unique natural wealth

With its shallow depth and its luxuriant vegetation in and around, the Grandlieu lake is a unique ecosystem in Europe. The site is the second ornithological reserve after Camargue and its access is strongly restricted. This natural reserve is listed as "wetland of worldwide interest".
The lake is rich of an abundant flora : open waters, tall reedbeds, floating grass beds (the most important in France with white and yellow water lilies) and marsh-fields or flood-meadows used by farmers. In summer, they house herds of Nantaise cows.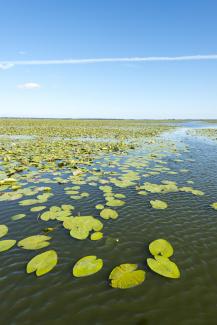 Some figures about the lake


Surface area : 3500 hectares in summer and 6500 to 7000 in winter
Maximum depth : 3 meters
270 bird species
50 mammal species including otters
12 frog species including brown frogs
30 fish species including eels
550 plant species
650 hectares of the site are classified as regional nature reserve
they are under the control of the Loire-Atlantique hunting federation and the National Foundation for Habitat Conservation who monitor the lake ecosystem, count the birds and follow up species.
2700 hectares of the site have been classified as national nature reserve
since 1980, under the control of the National Society for the Protection of Nature. 
The perfumer Jean Pierre GUERLAIN donated his property to the State on condition that it became a protected area..
Grand Lieu is also renowned for its fishing activity. 
 Nowadays, 7 professional fishermen (compared to the 120 recorded in 1923)  make a living of this activity. Their home harbour is situated in the village of Passay in La Chevrolière.