Saint Colomban is rich of a remarkable built heritage such as mills and castles you can sight strolling around.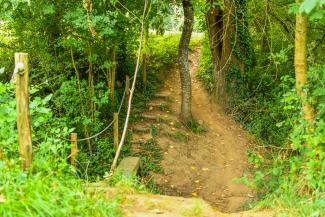 With varied landscapes (woods, vines, streams, paths) and situated in the heart of a bocage scenery, Saint Colomban offers a nice point of view on the Boulogne valley and also overlooks the Logne valley.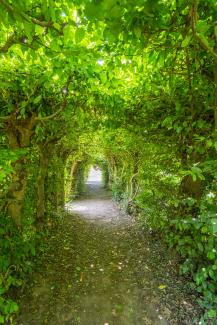 PATRIMOINE
Les jardins de la Cure
Ancienne propriété de l'Église, les jardins de la Cure, situés sur la commune de Saint Colomban, sont désormais un lieu accessible et agréable de promenade.
Un bassin maçonné, une marquise de charme et un haut mur en pierre bordent cet espace boisé qui s'étend aux pieds de l'ancien presbytère devenu bibliothèque.
La Réserve Naturelle Régionale Bocage Humides des Cailleries
Ce petit « conservatoire bocager », classé en 2012, est un témoin de l'agriculture traditionnelle d'avant-guerre. En effet, la réserve a quasiment conservé sa structure originelle avec ses 3700 m de haies, ses 13 mares, ses prairies naturelles et ses milieux boisés.
Avec le temps, la biodiversité́ naturelle s'y est développée. Aujourd'hui restauré et entretenu, l'endroit un lieu de balades et d'observations qui intéressera toute la famille. Au total, ce sont 147 espèces de plantes, dont deux protégées, et 205 espèces animales, dont 46 remarquables, qui sont recensées sur l'ensemble du site.
Des actions de conservation, de connaissance du patrimoine et sensibilisation sont régulièrement mises en place.
Le sentier pédestre permet aux curieux ou au passionné de découvrir une nature préservée à la faune et flore variées. Le site est accessible librement et gratuitement toute l'année. Vous trouverez un parking sur place.
To do in Saint-Colomban :
Visit the church garden, hike, taste local products at the Rublé farm.