Located in Saint Philbert de Grand Lieu, Le Grand 9 aquatic centre welcomes families and athletes all year long. It is composed of :
A 25 m sports pool

A  leisure pool

A children's pool

A water slide (over 6 years old)

A jacuzzi

A solarium (open according to weather conditions)
CORONAVIRUS : le centre aquatique le Grand 9 sera fermé à partir du dimanche 15 mars et jusqu'à nouvel ordre. 
Opening times
From September 3rd 2018 to June 30th 2019
Monday
11:30-14:00
Tuesday

11:30-14:00/16:45-21:00

(reserved for adults from 16:45 to 17:00)

Wednesday
11:30-14:15
Thursday
11:30-14:00
Friday
11:30-13:30/17:30-20:15
Saturday
14:00-18:00
Sunday
9:30-12:30/15:00-18:00
From July 1st to September 1st 2019
| | |
| --- | --- |
| Monday | 14:00-19:00 |
| Tuesday | 10:00-11:30/14:00-21:00 |
| Wednesday | 10:00-11:30/14:00-19:00 |
| Thursday | 10:00-11:30/14:00-19:00 |
| Friday | 10:00-11:30/14:00-21:00 |
| Saturday | 14:00-19:00 |
| Sunday | 9:30-12:30/15:00-19:00 |
*Between 11:30 and 13:30 or 14:00 (except on Wednesdays), the leisure pool is busy with aqua-aerobics lessons.
The aquatic centre is open everyday except on bank holidays and during required draining.
Swimmers have to leave the pool 15 minutes before closing and games stop 30 minutes before closing.
Admission prices   
From  September 3rd 2018 to September 1st 2019
Units    
Adult : 4.80 €   
 Under 16 years old : 3.60 €   
Under 3 years old : free (under 5 years old during school holidays - except in summer)
Student : 3.60 €
Disabled : 2.85 €
Evening swimming (last hour)    
Adult : 2.85 €   
Under 16 years old : 2.15 €  
 Swimming pass (available one year)    
10 adult admissions : 36 €   
10 under 16 admissions : 27 €   
10 hours : 24 €   
20 hours : 38.50 € 
Les chèques vacances et les coupons sports sont acceptés.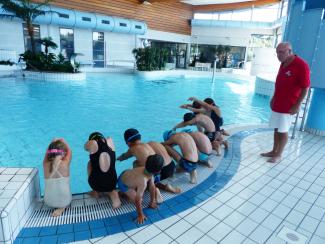 Enfants
Jardin aquatique
Cette activité est proposée aux jeunes enfants de 4 à 6 ans souhaitant découvrir le milieu aquatique par l'intermédiaire de jeux ludiques.
Ecole de natation enfants
L'école de natation s'adresse aux enfants de tous les niveaux allant des séances pour les débutants aux séances de perfectionnement.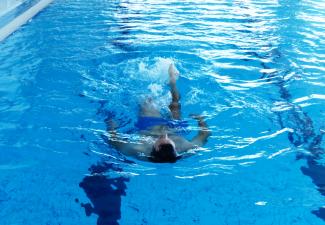 Adultes
Aquaphobie
Destinées aux personnes ayant peur de l'eau, ces séances permettent  de maîtriser les appréhensions (eau, profondeur…)
Débutant
Apprentissage
Perfectionnement
Les cours de perfectionnement permettent de mettre au point les techniques de base de nage.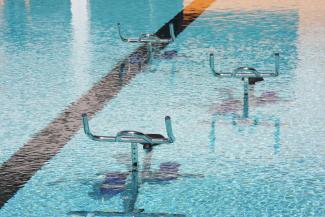 Activités Aqua
 Aquagym
Gymnastique qui se pratique dans l'eau, l'aquagym est un excellent moyen d'allier l'aspect détente de la piscine avec les bienfaits du sport.
Aquatonic
Variante de l'aquagym, l'aquatonic est un une activité complète idéale pour garder la forme, tonifier les muscles et brûler les calories.
Aquabike
Parfait pour se tonifier améliorer sa capacité cardio-respiratoire et brûler des calories, l'aquabike est la version aquatique du vélo d'appartement.
 Aquajogging
L'aquajogging consiste à reproduire en milieu aquatique les mouvements de la course à pied. Ce sport développe la souplesse, la force, l'endurance et stimule la circulation sanguine.
 
Pour chaque cours, deux places sont disponibles à la séance sur réservation.
D'autres activités sont proposées par des associations : bébés nageurs, section aqua-ludique, danse aquatique et plongée.
Des stages de natation ainsi que des activités aqua à la séance sont aussi proposées lors des vacances scolaires.
Les inscriptions aux activités ont lieu chaque année dans le courant de l'été. Un dépliant présentant les activités et le planning ainsi que les modalités d'inscription est envoyé dans chaque foyer début juin. Avant toute inscription aux cours de natation (enfants et adultes), il est nécessaire d'effectuer une évaluation gratuite sur rendez-vous.
Centre aquatique Le Grand 9
rue de l'Hommée - 44310 Saint Philbert de Grand Lieu
02 40 78 70 84
grand9@cc-grandlieu.fr