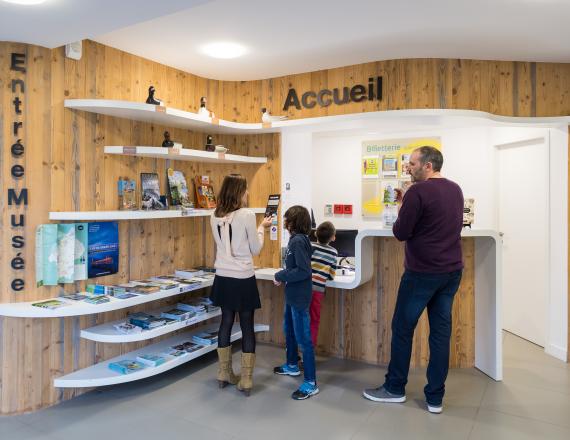 Grand Lieu lake Fishermen's House

16 rue Yves Brisson, à Passay
44118 La Chevrolière

Tél : 02 40 31 36 46
Mail : maisondespecheurs@grandlieu.fr
www.grandlieu-tourisme.fr
COVID-19: The Grand Lieu lake Fishermen's House is open at the usual times.
A health protocol has been put in place to guarantee the safety of all: 
The staff is equipped with masks and disinfection products.
Wearing a mask is compulsory for all indoors and outdoors
Hydro-alcoholic gel available at the reception desk and during the visit.
Contact areas disinfected daily
Regulation of access to the reception area
Signposted direction of visit to be respected by visitors
Awareness-raising posters on respect for barrier gestures and physical distancing
Contactless payment is recommended
Opening times :
From April to October : from Tuesday to Sunday, 10:00-12:30 and 14:00 -18:30
From November to March : Wednesday, Friday, Saturday and Sunday : 14:30-17:30
Last ticket sale 15 minutes before closing.
Closed on bank holidays : May 1st. December 25th, January 1st.
Admission prices :
Self guided visit
Full price : 4 euros
Reduced price* : 2 euros
Free : under 6 years old and tourism professionals 
Self guided visit, last hour in the evening  :
Full price : 2 euros
Reduced price* : 1 euro
Free : under 6 years old and tourism professionals
Guided visit :
Full price : 5 euros
Reduced price* : 3 euros
Free : under 6 years old and tourism professionals
* visitors from 6 to18 years old , students, job seekers, CEZAM card holders, people with disabilities and one accompanying person, groups (minimum 10 pers.)
Document :
For an unaccompanied visit, an english guide-book is avalaible at the front desk.
Payment methods : 
Available on site :
Tourist shop : books and postcards, gifts, regional products.
Free Wifi 
Tourist information 
Bike rack at the entrance door
Nearby services  :
Direct access to the Regional nature reserve of Grand Lieu lake. Warning : fishing, boating and swimming are strictly forbidden. Access to the Grand Lieu lake ornithological observatory.
Restaurant and picnic area
Campervan area
Playground
Hiking trails, among which the GRP Tour du Lac de Grand Lieu
Accessibility : 
Accessible spaces for people with disabilities and strollers : hall, toilets, museographic section, garden, aquarium section, temporary exhibition room. 
Non-accessible space : the observation tower with 50 steps to go up. 
Length of the visit : about 250 meters. 80% accessible.
Equipement : seats available everywhere. 
Access : 
How to get to the Grand Lieu lake Fishermen's House
30 minutes drive from Nantes and 50 minutes from Pornic.
By car : from Nantes périphérique sud, exit at Porte des Sorinières direction Saint Philbert de Grand Lieu, take D178, follow the direction La Chevrolière, and in La Chevrolière follow "Passay" and "Lac de Grand Lieu"
By bus : LILA ligne 12 Nantes>Saint Philbert de Grand Lieu. Stop at "Passay" , or "Sacré-Coeur" ( 2,3 km walk)
Carpark : Place des Pêcheurs
 Other visits in Loire-Atlantique
Label de la Maison des Pêcheurs du Lac de Grand Lieu :

Information COVID-19 : 
⚠️ Le respect des distanciations physiques et des gestes barrières reste plus que jamais de mise tout au long de la visite.
Nos équipes mettent tout en œuvre pour vous accueillir dans les meilleures conditions. Merci pour votre compréhension.
Respect d'une distance minimale de 1 mètre entre les personnes ou les groupes
Mise à disposition de gel hydro-alcoolique à l'accueil et au fil de la visite
Sens de visite balisé à respecter par les visiteurs
Paiement en sans contact conseillé pour la billetterie et les achats en boutique
Réservation conseillée pour les visites guidées
Zones de contact désinfectés tous les jours
Affichage de sensibilisation au respect des gestes barrières et de la distanciation physique
Je me protège, je protège les autres : téléchargez l'app « Tous Anti-Covid »
Et aussi ...
Découvrez le Pass Grand Lieu pour une visite combinée de la Maison des Pêcheurs du lac de Grand Lieu et du site de l'abbatiale Déas (valable 5 jours) : 6 € / 3 €