The fishermen's village, Passay, is one of the must-stop of the area.

Its harbours offer outstanding views  on Grand Lieu lake.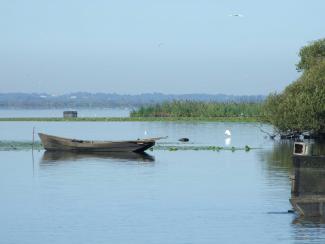 Summer and winter harbours
The scenery of the village changes with seasons, according to the water level of Grand Lieu lake. As a consequence, it has two harbours : a summer harbour and a winter harbour.
The heritage walk in Passay
The heritage walking tour will lead you through the narrow streets to discover the traditional architecture of mansions and small fishermen's houses.
Thanks to old photos and postcards here and there on the tour, you will discover the life of Passis at the beginning of the 20th century.
In the 1920s, 120 fishermen carried out this noble but difficult activity. Nowadays, 7 passionate professional fishermen perpetuate tradition.
The festival of Grand Lieu lake Fishermen
The festival of Grand Lieu lake Fishermen
Every year, on August 15th and the following Sunday, the festival of Grand Lieu lake Fishermen is held in Passay :  an unmissable opportunity to discover the lake, taste the traditional eels and meet the professional fishermen.